PLUS Brand and Logo
Brand Name: PLUS
Brand Logo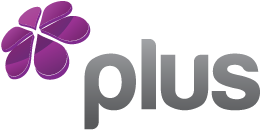 Why PLUS?
PLUS aims at bringing added value, as well as the best products and services to its clients. This is expressed very significantly in the brand name.

PLUS brand identity
The identity of our company is based in some main elements of the design, which virtually express the image of PLUS: PLUS logo and the color palette.

Why did we choose a flower as our logo?
The flower is a simple natural symbol, which represents all those little, perfect details, which give color and energy to our life.
But the PLUS flower is not just a simple flower, it goes a step beyond: it is indeed a natural form, but it is also technologically perfect. Its proportional form has been created as a symbol of the perfect services that PLUS offers to its clients. The petals of the flower unite in the central point, same as peoples' relationships that always have a common point, COMMUNICATION.

Which are the colors of PLUS?
Our colors are purple and grey, special and unconsumed in communication.
These colors are symbols of superior elegance and achievement in status and knowledge.